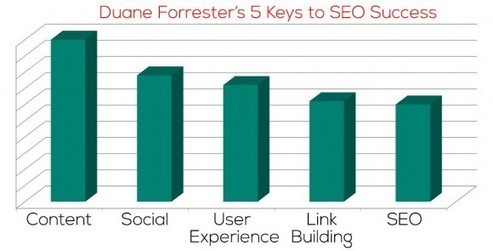 Bing's Duane Forrester lists in order the priorities site owners should invest in for better search rankings.
Source: www.stonetemple.com
Takeaways:
Content is Still King

: If you're a searcher coming in and looking at something and you don't have a high degree of confidence in it, the most logical thing that's going to happen is, you're going to go back. Remember, the finite size of a page is known. It's easy to understand how long it takes the average human being to consume a piece of content. If it appears that that average human being is consuming less of the content, that's a signal to us.

Social Media

: If people are loving you, if you're getting all kinds of social support from people and they love you, you know what, that's a signal to us that maybe we should be ranking you higher.

User Experience.

That's 15 years of experience. This is where I find myself today as an SEO. I will put my money into quality content. I will put my money into social engagement. I will put my money into usability testing. And then, I will actually start putting money into things that are SEO related.

Link Building.

Link building is important, but not for the reasons that SEOs want it to be important. Spending your time on usability testing or on engaging in social media or on producing better quality content or on proofreading that quality content, that's a much better use of the website's time, than in trying to solicit links anywhere.

On Page SEO.

All things being equal, a better-optimized site should be a better experience for a searcher.